Sorry for the long break in posting! The summer was a row of endless negotiations I didn't want to jinx before anything was completed. Then I quit my job and took up history at the university, lovely decision but lots of work. Anyway. back to the blog.
When we got the estimates for the pigsty project we immediately tried to find alternatives (cheaper ones of course). The first that occurred to us was buying the house next door and fixing it up. Seeing the extent of damage though (combined with the absolutely insane price tag) we figured out it would be even more expensive than the pigsty because it would be completely new construction and larger too.
When we were out in the country after Christmas the house still hadn't sold and the price had been dropped to €39500 - a joke for a ruin on a miniature lot. As you'd say in Austria a towel-sized lot. For comparisons sake: in the same village there's another similarly bad house for sale, though with a lot 10 times the size of our neighbor's - for an asking price of 53 000. So 45k for that tiny lot is insane (even the 53k are a bit expensive given the fact that the house is a ruin).
House next door project dead. But: two other houses across the street were vacant at that time. One is pretty ugly, modern stucco exterior, ugly new windows, kitschy wood fence. The other one though... exterior had a 1930s look to it (at least the front) but there is a plaque stating a construction date of 1879. So we decided to have a look at it... and fell in love immediately! All rooms(!) but the hallway and the kitchen have open beam ceilings, living room and kitchen still have the original wide plank floors, deeply worn by 130 years of foot traffic...
The roof is early 1990s tile, very solid. Electrical service has been redone in 1976 and is more than enough for us. Bathroom needed to be redone, but was there!
It's fairly small (just around 60 square m, 1 big room, 1 small, kitchen, 2 hallways and bathroom) but there are 2 attached very solid outbuildings that can be used as storage, shop, whatever and there's a cute garden house. The yard is small, but not tiny which is great - enough space but not much maintenance. It's completely overgrown though - in summer there were stinging nettles and other shrubs taller than myself!
Now for the bad part though... suddenly when the nephew of the old lady who had lived there (and passed away without a will) wanted to take possession his brother showed up and claimed rights on the house... followed by about half a year of debating.
Anyway, in late fall my parents bought the house for a pretty fair price!
So now we are the proud owners of this beauty:
It needs a lot of work, but it'll turn out great I'm sure!
The previous owners left almost everything in the house, so the first thing we did was sift through layers and layers of stuff. The old lady was some kind of shopping maniac, we found lots of clothes with the price tag still on - like pullovers for a price that would buy a guy like me 10 of them. We immediately made three piles: keep, donate, trash. The keep pile was the smallest - thanks heaven. We also threw out lots of furniture, the old lady was almost blind during her last few years but didn't really accept help, besides they had several dogs. Long story short: the place was and still is DIRTY, so anything neither valuable nor easy to clean was piled up outside to await trash pickup.
Don't worry, the panel doors and ladder won't go, the guy who'll pick it up knows that! On the contrary, these doors will go in during the renovation!
We also dug our way through hundreds of books.
Of course as with any old house related project there will be more work than originally anticipated of course.
Large sections of plaster are falling (not original, porrly redone in the 1970s), even the fairly recent 1970s wiring is in horrible shape, not to mention the frayed original 1950s wiring. Both chimneys need substantial repairs (one was already rebuilt from the roof line up by our trusty handyman Mr. Martin). Originally we wanted to line one of the chimneys for use with a gas boiler, but unfortunately it curves twice and we don't have flexible liners here... we'll see. Either we open the entire curved section, line and rebrick or we keep it for the wood/coal stove and vent the gas boiler directly.
The garden house roof has been completely replaced due to failing framing and tiles (it had been built in 1990 using the structure of an old shed which already looked pretty wonky in 1976 pictures).
The pigs stalls roof will need replacement too, but I hope that'll be a DIY job.
Even though the house looked pretty dry when we first saw it removing furniture showed mold and rising damp issues, so we decided to remove all floors and have the walls sliced through horizontally to get a moisture barrier. We really hope to save the beautiful old plank floors!
The bathroom in all 1970s glory is a gut job.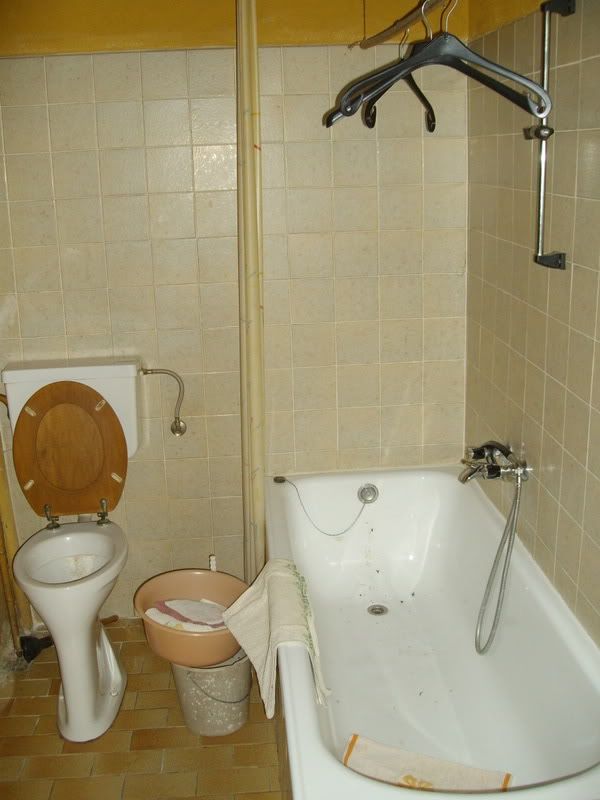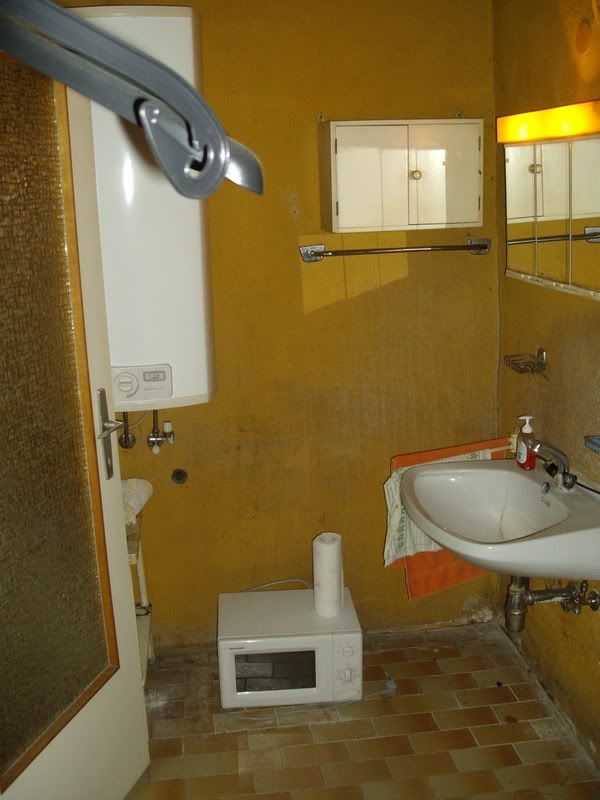 We'll also split it up into a bathroom and water closet.
In the kitchen we started taking down 1930s solid wood paneling covering the original ceiling. It's a horribly dirty job - the original reason why the paneling was put up: dirt was sifting through gaps of the original wood ceiling. Now the POs had concrete poured up in the attic and insulation put up, so no more dirt. However, the dirt of 7 or 8 decades is now resting on the paneling...
The original ceiling seems to be in rough shape, I've seen some insect damage to the beams... we'll see. There are 4 ways to go depending on the condition of the ceiling and our likings: replace entire ceiling with new reinforced brick and plaster, put back paneling, expose original ceiling or put up plaster and lath.
The only downside to removing the old paneling: way back when the house first got electrictiy they ran exposed conduit to the light aand across the ceiling to an outlet next to the window. The unpainted metal conduit with all its patina looks really cool, but we won't be able to replicate that look unless we try to put up the original again.
We also had the EVN electricity and gas guys out to remove the night rate electricity meter (for the hot water tank - I mean how silly is that? You can only get hot water 10PM to 6AM, if you run out during the day all you can do is wait or take cold showers!) and plan the new gas service. Originally the house had been heated using coal stoves, but around 1996 the old lady had electric heat installed. Result: a yearly 4000 Euro electricity bill! That's a sum that would make most people choke and run screaming... besides... those beasts don't really get the house warm! Running them at full blast all the time gets the house to a "toasty" 12 degrees Celsius. The coal stoves are great though - we fired up the smaller one and it got one room from "just above freezing" rto "work in t-shirt condition" within two hours. We even have coal left so we don't need to buy anything. The gas guy marked where the gas meter is supposed to go and left us a flush mount gas meter box. Once it's installed they'll run the service pipe and we can have a plumber run the interior gas lines. We didn't feel like going outside and taking a rotary hammer to the facade to install the gas meter box in 10 degrees below freezing weather.
In less than two weeks weÄll go there again and continue working on the house! *yay*
Until then a picture to tell how dirty the place is... this used to be the hallway ceiling light and just for pointing out the contrast I only cleaned half of it and snapped a picture.
Does it surprise you to hear it didn't give much light?